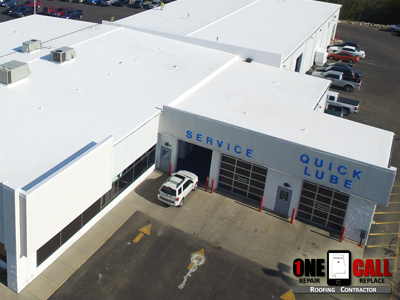 Trying to find a quality commercial roof replacement at an affordable price? We've been removing and installing these roofs for nearly 20 years.
Does Your Building Have a PVC, TPO or Tar and Gravel Roof? Let us remove and replace it with a brand new one for less than you think!
Call us: (334) 721-3350 today.
Whether you need a TPO, PVC or other type of flat roof, you can trust that it will be installed correctly and last a very long time. Our roofs come with a warranty to protect you for decades.
Flat Roof Installation Dothan AL
We understand the importance of having your commercial roof replacement finished in a timely manner. Keeping the downtime of your business (if necessary) to an absolute minimum during the entire process is a big priority for us. We'll get the job done efficiently, safely and on time.
Choosing the best flat roof installation in Dothan should be your highest priority if you think your roof is failing. These older and usually outdated roofs have the risk of damaging the structure of your building or harming others. We specialize in all types of commercial roofing.
All low slope roofs take expertise to ensure they stay waterproof. Special attention to curbs around HVAC units and hatches, parapets and walls, flashing and roof drains is crucial in keeping out rainwater.
Commercial roof replacement should only be performed by a licensed and insured contractor. We are and our reputation is solid.
We offer different varieties of flat roof installation in Dothan. From built-up roofing (BUR) to PVC, we can replace them all. We can discuss the best material for your new flat roof that will fit your needs and your budget. We also offer 100% financing options for customers who may need it.
Some roofing materials insulate better while others are more durable against moisture. We can set up a plan that fits your timeline and your budget. We know getting your flat roof replaced properly is important, so we never cut corners.
Commercial Roofing Contractors in Dothan
When you're looking at a commercial roof replacement, you need to know you can trust the flat roofing contractors in Dothan you hire. Our mission as commercial roofing company is to make sure you know what solution is best for your roof, then installing it on time and on budget.
Our entire staff is dedicated to communicating with you before, during and after your new roof is installed. Our reputation is for putting on the best commercial roofs at affordable prices. Add in one of the longest warranties in the industry and you'll be worry free for decades to come.
We provide commercial roof replacement in Dothan and the surrounding area.