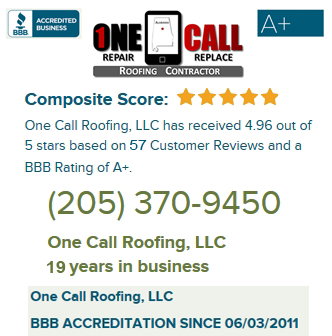 If you haven't heard of us, One Call Roofing, LLC in Birmingham has many real customer reviews on the Better Business Bureau or (BBB) website. It's important for you to do a little research on any roofing contractor before you hire them. Our A+ BBB Profile is a great place to start.
Real BBB Reviews for One Call Roofing, LLC
Below are just a few of the actual customer reviews submitted to the Better Business Bureau regarding One Call Roofing…
5

out of

5

based on

16

reviews.
Overall rating:
Roof Repair
★★★★★
"
One Call did a great job fixing my roof and painting my house! The entire process was easy and the job was well done. Overall fantastic experience - I highly recommend!
"
Roof Repair
★★★★★
"
We had Brian out to give us a quote on our soffit vents that had been painted shut, preventing proper ventilation in our attic. The price was very reasonable and the crew showed up on time and got the job done. Mike (the crew leader) was very attentive to details making sure things cleaned up and done correctly. Highly Recommend!
"
Roof Replacement
★★★★★
"
Brian and the entire team at OneCall could not have been better to work with when we were in need of a new roof. They were very pleasant and patient as we got the necessary paperwork filled out. They also did a fantastic job on our new roof. Whenever I had any questions, Brian was quick to answer and even met me at my office a few times to help speed things up. Great customer relations and I highly recommend them.
"
Roof Repair
★★★★★
"
We have had a ton of roofing problems because of another roofing company. We are so grateful to have found One Call! They have been amazing!! They responded so quickly and did a wonderful job. I would highly recommend them to anyone I know that has roofing needs!
"
Roof Replacement
★★★★★
"
One Call did an amazing job on my roof replacement and interior damage. Julie from the office was easy to work with and made the insurance process a lot less of a hassle. Highly recommend!
"
Roof Repair
★★★★★
"
The roofing department was very kind, communicative, thorough, and professional.
"
Roof Replacement
★★★★★
"
My experience with One Call Roofing was wonderful. They were able to give me a high quality roof at a very affordable price. In fact, they were the lease expensive of several companies that I had reached out to. Don't bother trying to find a better price! You won't find it. Brian was easy to work with, and they were patient with me along the way. If you need a new roof, they are truly the best around. Not even a close second! Highly recommend!
"
Roof Repair
★★★★★
"
I've never actually had to search for a roofing company before. I didn't quite know where to start or who to trust, so thankfully I called One Call Roofing to relocate a downspout on one of my gutters. Joe and the crew at One Call made my experience so easy (and honest). I would work with them again and I'll definitely be calling Joe to help with any home needs again in the future. Awesome crew and great work! A+++
"
Roof Repair
★★★★★
"
I am the GM of the Holiday Inn Express in Sylacauga Al. One Call Roofing has been a lifesaver for my hotel. After contacting several other roofing companies to work on our roof no one could ever fix the problem. I called One Call and they had were out right away and repaired my roof. I will definitely use them again if I ever have any issues. Also, the customer service at this company is truly amazing. The roof technician that came out was super friendly and nice and Julie from the office was always amazing. Thank you guys so much for everything.
"
Roof Repair
★★★★★
"
This company came out in the middle of the "Nate" storm and put a tarp on my roof to stop the leaking in my home. Steve and James were just kind and efficient. James was the person who got up there in the rain and put the tarp on my roof. God Bless him, he was soaked, but got the job done and offered if there were any further leaks, he would come back and take care of it no matter what time. I am very appreciative!!!
"
Roof Repair
★★★★★
"
Its not often I feel compelled to write a review but in this case, I feel I must. We live in Gardendale and after some a recent storm, we needed someone to come out and fix some things on our roof. We also were having some major renovations done in our kitchen and bathrooms. A friend told me about One Call. I checked them out online and they had excellent ratings so we gave them a call. They did a fantastic job! I wish I could put a picture on here of how great our tile shower turned out. Kitchen looks like a show house. They were very professional and took the time to do things right. They are well worth the investment! I highly recommend One Call to anyone who is thinking about replacing their roof or doing any in-home renovations.
"
Roof Replacement
★★★★★
"
One Call Roofing replaced my roof. They did an EXCELLENT job. I love it! They also put new ceilings in two rooms. It looks wonderful. They put in new doors and repaired my patio. They are beautiful.
"
Roof Replacement
★★★★★
"
The professionalism I have experienced conducting business with One Call has exceeded all of my expectations . It was pretty clear from the first day it met with their consultant Donna that I was in good hands . In need of a total roof replacement their team provided me with a quality install from start to finish . Thanks again Donna and your team !!!
"
Roof Replacement
★★★★★
"
My name is Nancy and I live in Alabaster, Al. I had shingles missing and thought I needed a roof repair. After reading reviews I decided to use One Call and boy am I glad I did! After there free inspection I was told that I had storm damage! They helped me through the insurance process which we all know can be a nightmare! They made it EASY! I received a full roof replacement and all my interior damage was fixed by One Call! Dependable, honest, & helpful are just a few words I would use to describe this company! I will be using them again for all my home & remodeling needs and referring them to all my friends & family!
"
Roofing Repair
★★★★★
"
I recently had a ridge vent installed on an existing roof. The company's contact person, Donna P***, always answered calls or returned messages, which was a very pleasant experience. So many companies do not respond to customer calls, but Donna is exceptional and made my experience with this company a very positive one. I enjoyed dealing with the other staff members as well, and they did a fine job on my roof. They all acted professionally and kept me informed at all times.
"
Roof Replacement
★★★★★
"
This month (April, 2016), I retained the services of One Call Roofing and Remodel to apply a new roof and new gutters to my home in Hoover, Alabama. Steve S***** prepared a quote for the job and within just a few days the entire project was completed. Steve and his brother, Joey, were a pleasure to work with and the roofers who did the work did a fantastic job. They made it look like a brand new house. They guarantee their work with a 50 year full replacement warranty. Steve has been very responsive to any of my questions and I'm confident he will be there if I ever have a problem.
"