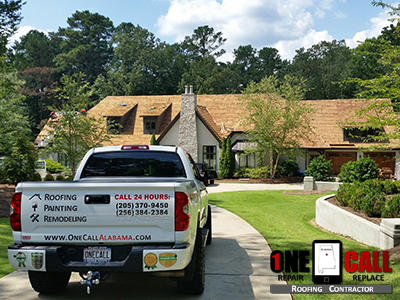 A good roofing contractor in Birmingham AL understands that a roof replacement or roof repair is a big deal to you. You need honest cost expectations, high quality roofing materials, and skilled installation. You may also need an advocate with your insurance company. With One Call Roofing, you get the best of everything you need for your roof, backed up with years of service in Alabama.
Want a reputable roofing contractor in the Birmingham area?
Call now 205-370-9450 for a free estimate on a new roof or roof repair
You've found the roofing contractor you need for:
Residential roofing (replacement and repair)
Commercial roofs (both new and needing repair)
Birmingham AL Roofing Contractor
You get professional, factory-certified craftsmen. We have earned the Platinum level certification from GAF, the premier manufacturer of roofing material. This isn't just handed out, they assess our installation and service to ensure customers who buy their products will get the performance the manufacturer promises. This makes us the reputable roofing contractor who can offer the longest warranties on roofing materials. It ensures you get top work regardless of which brand of material we install for you.
We repair or replace the following roofing types for residential or commercial roofs:
When it comes to your roof, no one provides better service, roofing materials or workmanship that we do.
Reputable Roofing Contractor
So, how do you choose the right roofing contractor? First, make sure they have a good reputation. The best roofers have a lot of 5 Star Google Reviews, BBB Reviews and other verified customer reviews such as Customer Lobby. We have all of the above, check and see. Next, call them. Do they answer the phone on the first call or do you have to leave a message? The results you get are typically the results you will have after your roofing work has been completed. Finally, use common sense. If your roofer shows up in a beat-up truck, is less than professional in appearance and doesn't provide a complete written roofing estimate, walk away.
As a reputable roofing contractor in Birmingham, we understand how daunting it can be to make the right choice when it comes to repairing or replacing your roof. We are always happy to provide proof of insurance and business licensing.
You have chosen the trusted roofing contractor in Birmingham, AL since 2003.
Call 205-370-9450 for a free estimate today!
We are a licensed and insured roofing contractor in Birmingham AL, Serving: Hoover, Homewood, Pelham, Trussville, Bessemer, Alabaster, Mountain Brook and Vestavia.