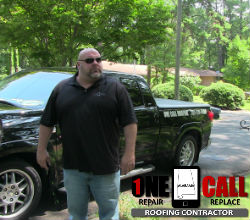 A good roofing contractor – and you will find that we are – understands that a replacement roof or roof repair is a big deal to you. You need honest cost expectations, first-rate manufacturers' products, and skilled installation. You need an advocate with your insurance company. You've come to the best place to get everything you need, backed up with years of service in Alabama.
The top roofing contractor in the Birmingham area
Call now 205-370-9450 for a free estimate on a new roof or roof repair
You've found the roofing contractor you need for
residential roofing (replacement and repair)
commercial roofs (both new and needing repair)
You get installers who are factory-certified craftsmen trained in up-to-date skills We have earned the Platinum level certification from GAF, the premier manufacturer of roofing material. This isn't just handed out. They assess our installation and service to ensure customers who buy their products will get the performance the manufacturer promises. This makes us your roofing contractor who can offer the opportunity for long warranties on materials. It ensures you get top work regardless of which brand of material we install for you.
Let us introduce you to cutting edge materials available for a home or business replacement roof:
Shingle
Tile
Metal
Commercial elastomeric coatings
Commercial aluminum coatings
Let us solve any leaks or problems in:
Shingles or tiles
Metal roofs
Flat and low slope roofs
Your insurance claim is a company priority
When you have storm damage, or a destroyed roof, your insurance agreement entitles you to choose your own roofing contractor to represent you with your insurance firm. This means we are your representative when roof damage is inspected. It means we meet with your claims adjuster. Our goal is that you pay no more than the deductible. We know the process. We know that it goes smoothly when the adjuster and the roofer agree on the type and amount of damage. All of our staff is trained in navigating the insurance industry to make it easy on you.
We understand that roofing is a significant investment; of course you worry about your choice. You won't regret choosing One Call Roofing. Our promise is that we get it right, stand by the work we do for you, and use only top-notch roofing material. Success as a roofing contractor often depends on word-of-mouth. Trust our track record of perfect installations and ideal customer service.
Metal roofing
Metal roof systems have a host in innovations, including built-in leak prevention. New metal roofing is engineered so that the seams interlock and overlap, making it all but impossible for wind-driven rain to penetrate the seal. This interlocking construction also increases wind resistance.
Innovations in energy efficiency
Most metal comes in a reflective color. This bounces away the heat of the sun. Independent testing of metal roofing discovered it knocked 30-cents off of every dollar spent on air conditioning. Check into tax credits for replacing an existing roof with an energy efficient metal roof.
Metal roofs require no maintenance
A roofing contractor knows that metal roofing has been factory-protected against corrosion. The steel has been treated in the factory to inhibit rust. We offer aluminum coatings to add to rust resistance.
Roof coatings are the ultimate roof refurbishment
Acrylic roof coating goes on as a liquid, and dries to a lightweight and watertight membrane. Metal roof coating extends the life of a roof while fixing leaks and deterioration. They are designed for commercial, industrial and residential buildings.
You have chosen a roofing contractor trusted by Alabamans since 2003
Call 205-370-9450 for a free estimate today
We are the first choice roofing contractor in Birmingham Alabama, Hoover, Homewood, Trussville, Bessemer, Alabaster, Mountain Brook and Vestavia.