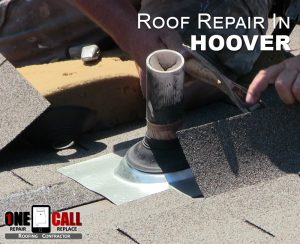 Do you need a reliable roof repair in Hoover? One Call Roofing fixes roofs and gives you a no leak warranty!
Is your roof leaking or does it have storm damage? Our roof maintenance experts can repair it 24 hours a day, 7 Days A Week!
Call (205) 370-9450 now!
It doesn't matter how big or how small your roof is, we have the skills to make it waterproof. From shingle roofs to metal roofing and cedar shakes, we fix them all.
Roof Repair in Hoover, AL
By the time you notice a dark stain on your ceiling, water damage can start setting in. There's no such thing as a minor roof leak, especially if it goes untreated. When something penetrates the surface of your roof and allows water in, the time to address it is now.
The first thing we do when we get a call for a roof repair in Hoover is a roofing inspection. Next, we thoroughly inspect the entire surface of your roof. Then, we go inside and crawl through the attic to find the source of the leak. After that, we make the necessary repairs to make the area watertight. Finally, we clean up the repair area and issue the warranty.
Our roof repair services aren't just for roof leaks. As a matter of fact, we're the experts when it comes to:
Storm Damaged Roofs
Wet Attic Insulation Replacement
Ceiling Stain Removal
As you can see, One Call Roofing covers all of the roof maintenance you could ever need. In addition to providing quality workmanship, we're probably best known for our low prices. Keeping roof repair in Hoover affordable has always been a priority to us.
Cost for Roof Repair in Hoover
So now that you've determined that you have a roof leak or damage, how much should it cost to fix it? In 2022, the average cost for roof repair in Hoover is about $150 for small fixes and $900 or more for substantial ones. Even so, our prices are much lower than most. Taking it a step further, we offer 100% financing and roof insurance claim help for those who need it.
Great prices are only as good as the repairs we do. For peace of mind, we always warranty our work. No matter how minor or severe the wind, storms, or falling object damages are, we're trusted to fix the issues quickly and properly.
We provide the best quality, lowest cost roof repair in Hoover, AL.