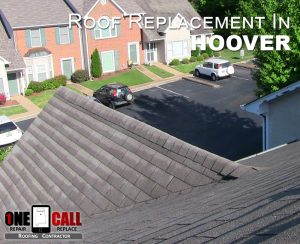 Need a roof replacement in Hoover? One Call Roofing specializes in roofing installs and repairs. Replacing old or damaged roofs and installing new ones at an affordable price is what we're known for.
Whether you own a home or a building, you will rest easy knowing the job will be done correctly and that we will be there whenever you need us.
Is your shingle, metal, shake, or flat roof past its prime? Let our roofing experts replace it!
Call (205) 370-9450 24hrs a day!
Changing out your roof is a big decision. You need to decide whether you want the same material or an upgrade. You need to weigh costs against benefits. You need to consider energy efficiency.
We have built more than 300 homes from the ground up so, we know roofing. We can help you make decisions – without pressure.
Popular Residential Roof Replacement Choices
Shingles – Asphalt shingles are the most popular covering in America. They are cost-effective, lightweight, and versatile. There are plenty of grades, colors and looks to choose from, and they last longer than ever. We are a Platinum Certified Contractor for the CertainTeed brand, which means you can trust our workmanship to meet the company's highest standards. We are also proud to carry GAF and Atlas.
Metal – Long-lasting, energy-efficient, and surprisingly quiet, metal roofing is an investment in a lifetime of leak resistance. Choose standing seam or the historic look of screw-down. It can lower your monthly energy costs significantly.
Tile – Concrete tile is strong, protective and highly insulating. Natural clay makes an elegant statement and provides a lifetime of durable protection. Both are available in many colors and profiles. It takes a high level of experience to install these properly, and you have found a roof contractor with more than a decade of installing premium rooftops.

Slate – Few materials make a statement like quarried stone. No two are alike and nothing lasts longer or provides more weather and fire protection. A quality installation can last more than 100 years. If it's too heavy for your house frame, talk to us about reinforcements or the new lightweight composite shingles.
Wood shake and shingle – Cedar, cypress, redwood, and pine offer uniquely dimensional and natural looks. While they require some maintenance, aficionados wouldn't trade their shakes or shingles for anything. We can inspect and maintain them for you.
Exclusive Home Maintenance Credit
When we do a roof replacement in Hoover, we often spot other home improvement issues. No problem! We will give you a $500 credit toward other repairs. We can fix flashing, paint trim, fix rotten window frames, or repair holes in sheetrock. Whatever you need done to the house, we have the ability to fix it professionally and completely. If the work we do is less than $500, you get the work done for free.
Commercial Roofing
Are you a building owner concerned about leaks? Is your rooftop a maintenance nightmare? Let us inspect it and present the newest generation of commercial roofing options. We can help you eliminate leaks, ponding, condensation and weathering.
Get the elastic, waterproof protection of a single-ply covering like EPDM or TPO.
Replace a built-up or modified bitumen surface – or try one of the new hybrids.
Torchdown and asphalt roll offer cost effective, reliable rain protection.
Metal gives your building an iconic look and lifetime protection.
Energy Savings for Commercial and Residential Roofing
Do you want to lessen your environmental impact and save on energy bills? Let us help! We can show you many ways to make your property greener and less expensive to cool.
New insulation will prevent your money from disappearing through the rooftop.
White, light-colored and reflective products include shingles, metal, and gravel cap sheets; or choose a lightweight spray coating. They can earn you tax credits, green building points – and save you a third or more on your AC costs.
Storm Solutions
If you are hit by a storm, call us first. Even if you don't think your roof has been impacted, we can spot "hidden" damage. We respond quickly and do the work you need. Best of all, we can take the hassle out of the insurance process. We will document the damage, walk the surface with your adjuster, and work on your behalf to get a replacement covered by your policy. Often you can get a new rooftop for no more than the cost of the deductible!
The One-Call Promise
If you need roof placement in Hoover or anywhere in the area, you have found a company that is fully licensed and insured, with the highest level of skill you will find anywhere. Check our references and our credentials: we are the only area roofing contractor that can guarantee we will always respond quickly, do the work we promised, and come anytime if you need us – right away! It's our peace of mind promise.