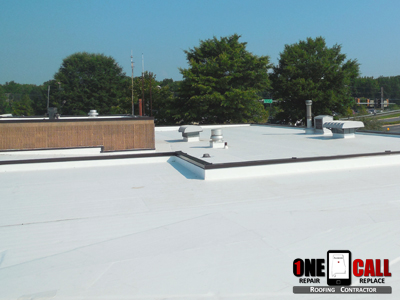 Does the thought of needing a flat roof replacement keep you up at night? We replace flat roofing at an affordable cost, with the longest warranty and get it installed in a timely manner.
Have a PVC, TPO or Tar and Gravel Roof? Let us remove and replace it with a brand new one for less than you think! Call us: (334) 721-3350 today.
Commercial roofs take a beating from Alabama storms over the years. Damage from storms, hail and tornadoes shorten the life span of flat or slope roofing.
Regardless of the type or style of your building's roof, making sure it is structurally sound and water-tight means promptly repairing them when they need it.
Additionally, it also means knowing when it's time to remove the old roof and install a new one.
Flat Roofing Materials
We specialize in replacing the most common flat roof types, including TPO, PVC, EPDM, and ModBit. The roofing materials we install are the best quality and come with decades long warranties.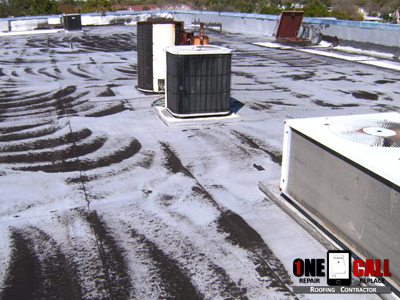 When it comes to experience, our roofers are tough to beat. We are frequently called on and referred for many of these flat roofing services:
Flat Roof Repair
Flat Roof Replacement
Flat Roof Maintenance
Flat Roof Damage
Flat Roof Installation
Flat Roof Inspections
Flat Roof Systems
Flat Roof Leaks
Whatever is going on with your roof, we have the skills and experience to diagnose the problem and recommend an affordable and permanent solution.
Flat Roof Cost Dothan AL
Calculating the cost of replacing a flat roof isn't as difficult it may seem. Determining factors are the area of the roof, roof prep (including repairs to decking), material type, installation labor and length of warranty.
Knowing this, the average cost of flat roof replacement in Dothan varies between $7,000 to $12,000 for small roofs and $21,000 to $33,000 for much larger ones.
Of course, the actual price you are quoted all goes back to the area of the roofing surface and the type of materials installed.
Rest assured, we do everything we can to provide the best quality roof at a low, affordable cost. 100% roof financing options are available too.
We provide flat roof replacement in Dothan and the surrounding areas.