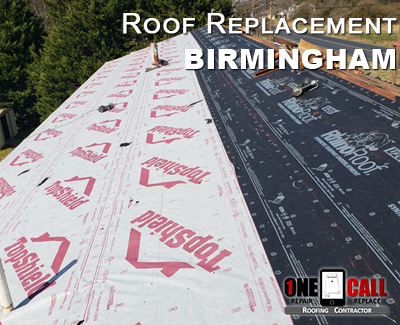 Are you looking for a long lasting roof replacement you can afford? Ours come with a 50 year warranty and we offer 100% financing.
Roof replacement from the top rated local roofing contractor in Birmingham and surrounding cities
Call now at 205-370-9450
Whether you have storm damage that can't be fixed, a roof that has come to the end of its protective life for your home or commercial property, you have found the expert roofing replacement contractor install your new roof.
New Roof Installation
Before you have a new roof installed on your home, a few things have to happen to ensure it will last a very long time. The following events will take place during the install:
Roof Removal – The old roofing surface is completely stripped off, all the way down to the wood roof decking.
Roof Deck Repairs – Any damage to the decking of your roof will be properly repaired or replaced if necessary.
Underlayment – The tar paper substrate, often referred to as underlayment, is laid down to form a moisture barrier.
Roof Flashing – Metal channels or panels called flashing will be fastened to valleys and installed around walls and chimneys.
Roofing Material – Asphalt or Fiberglass Shingles, Wood Shakes or Metal Roofing will be professionally installed.
Pipe Boots – Any pipes protruding through the roof get a flashing gasket called a pipe boot. This keeps water from penetrating around the pipe.
Ridge Vents – A ridge vent is a long, narrow type of ventilation installed at the top of roof. Its main job is to remove hot moist air from the attic.
Clean Up – All roofing debris is cleaned up from the property and properly disposed of.
When we're all through, the only way you'll be able to tel we were there is by the beautiful new roof you now have!
Roof Replacement Cost in Birmingham
For most homeowners, the thought of paying for a new roof can be stressful. It doesn't have to be. While there are a few factors that help determine the price you pay for a new roof, they are affordable. In fact, the average cost of roof replacement in Birmingham ranges between $6,500 to $7,700 for smaller roofs and $9,600 to $11,300 for the larger ones. The difference in costs is usually tied to roof size, material choice, labor to install it and the length of the warranty chosen.
To make things as easy as possible, we provide access to 100% financing for those who need it. Additionally, if you're planning on filing an insurance claim to pay for it, we can help make sure everything goes smoothly. Rest assured that our roofing estimates are fair and honest.
Shingle Roof Replacement
If your current shingle roof is 13 years old or older, get it inspected. For instance, the average trouble-free life of previous-generation asphalt shingle is 15 years. It then enters a constant cycle of leak and repair, then leak again. If your home or business asphalt shingle roof is "in its teens", schedule an inspection before age leads to big problems. Usually a shingle roof replacement is needed to bring added peace of mind.
Roof Replacement Insurance Claim
You are entitled to choose a roofing contractor to represent you with your insurance company. We will meet with your claims adjuster and navigate the process for you. In most cases, all you pay is your deductible. Whether it's for replacing the roof, gutters, or other exterior damage, we work to get your claim paid.
We have provided top quality roof replacement in Birmingham AL since 2003
Call the professionals at 205-370-9450
We offer roof replacement in Birmingham, Homewood, Alabaster, Pelham, Trussville, Hoover, Mountain Brook and Vestavia Hills AL.