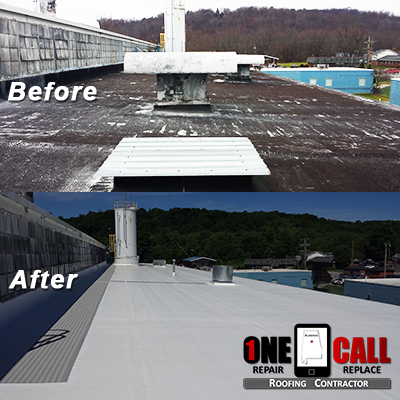 Are you looking at commercial roofing systems to replace your low slope or flat roof? Your search ends here. Choose from the three best roofing materials, TPO and PVC membranes or commercial roof coatings and get a great price too.
TPO or PVC Roofing Systems can be installed over any flat roof.
Call now for pricing.
(205) 370-9450
Regardless of the type of commercial roof you have, we can help you make an informed decision and save you money in the process.
Commercial Roofing Systems
When considering the best type of commercial roofing systems, keep three things in mind; durability, longevity and affordability. More often than not, most business owners who are shopping for a roof replacement are fed up with constant roof leaks at their building or facility.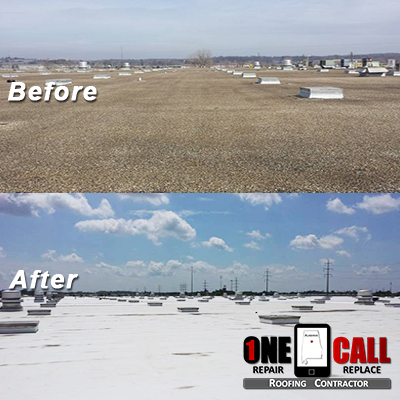 The top 3 roofing systems for flat or low slope commercial roofs that we install are:
TPO Roofing
PVC Roofing
Commercial Roof Coatings
Dollar for dollar, you just cannot beat the durability, warranty or waterproof abilities of these roofing surfaces. TPO is primarily the most common choice. This white, reflective roof has excellent flexibility, is puncture resistant and has a price everyone can afford. The average cost for TPO Roofing is between $5.95 and $7.25 per square foot, depending on roof size and mil thickness.
PVC roofs are almost always used atop restaurants and manufacturing facilities that have grease or chemical traps on them. The amount of plastics used in this white membrane roof will not break down when in contact with most of these liquids. Either way, both come with outstanding warranties.
Finally, there are commercial grade white roof coatings. The high solids silicone based roof coatings we use are by the industries best, Polyglass. We can completely waterproof a low slope metal roof and reduce the cooling costs of the building it protects all in one roofing system. If you're on a tight budget and hate the constant roof leaks coming from your old metal roof, roof coatings are tough to beat.
Types of Commercial Roofing Systems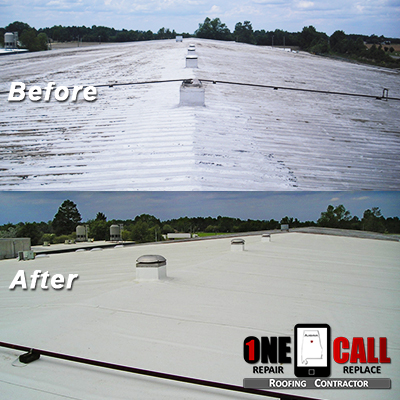 The most common roofing systems for flat or low-sloped commercial roofs are as follows:
Built-up Roof (BUR) – These are commonly referred to as "tar and gravel" and are generally composed of alternating layers of bitumen, aggregate and reinforcing fabrics. We can remove surface layer of this archaic roof and restore it to new using either PVC or TPO roofing membrane.
Metal Panels – These can be used for low slope roofs because there is just enough pitch for rain water to roll off. Once any of the numerous fasteners or screws start leaking, it's best to consider a white roof coating to permanently seal the entire roof. They can also be retrofitted with PVC or TPO.
Modified Bitumen (ModBit) – These are composed of reinforcing fabrics that support the material as it is manufactured into a roll, then applied using a torch-down technique. The good news is that we can easily install a PVC or TPO roofing system over this roof and save you thousands of dollars in the process.
Single-ply Membrane – These are incredibly durable flat roofing systems can lower utility costs for heating and cooling your building and last for decades. They are either thermoplastic olefin (TPO for short) or polyvinyl chloride (PVC). Both of these single-ply white roofing membranes are heat welded to form a monolithic or seamless roof.
We install commercial roofing systems on flat or low-sloped roofs in Birmingham and the surrounding areas.