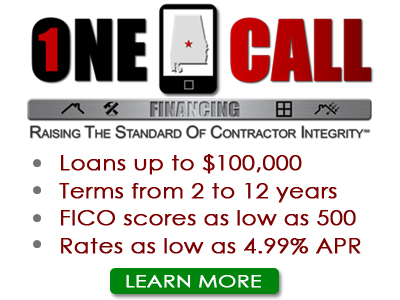 Do you need to finance a new roof? We can help! If you need to make payments to have your old roof replaced One Call Roofing is for you.
Get 100% roof financing or 12 months same as cash when paying for a new roof install!
Call: (205) 370-9450 to learn how.
Chances are you have been putting off replacing your old, worn-out and leaky roof for some time now. Usually, it's the cost of replacing a roof that hold most homeowners back from getting it done. Not anymore. If you own your home and have decent credit, we may be able to install a new roof and finance the entire cost.
We Are Roofers Who Finance in Birmingham, AL
It isn't difficult to find a roofing company when it comes time for a new roof. It can be difficult however, to find roofers who offer financing. We do and have been helping homeowners pay for their roof replacement for many years.
While there are many types of roof financing that we offer, some of the most popular payment options include:
100% Roof Financing
12 Months Same As Cash With No Interest Roofing Loans
Long Term Roof Financing More than 10 years
Short Term Interest Only Payments
Whichever works best for you and your budget, we may be able to help you get the roof replacement financing you need.
So, How Do You Get New Roof Financing?
It really couldn't be an easier for you to do this. Basically, you can follow these 5 easy steps:
Call One Call Roofing At (205) 370-9450
Request A Free Roofing Inspection
Apply For Roof Financing On The Inspection Day
Get The New Roof Loan Approval
Schedule The Roof Replacement Day
That's it! In no time at all, you could finally get the peace of mind that only a new, 50 year warranty roof can bring. Best of all, you're able to finance your new roof and have it installed by one of the highest rated Angie's List and BBB roofing companies in Birmingham, AL and the surrounding area. We have an enormous amount of independent, positive reviews from our customers who recommend our services time and again.
We offer new roof financing to homeowners in Birmingham, Hoover, Vestavia, Mountain Brook, Pelham and Trussville, AL.