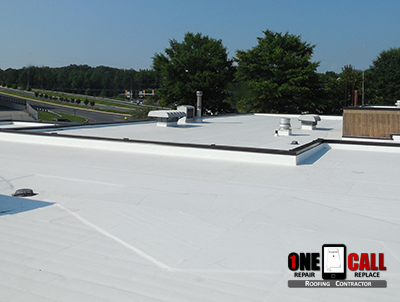 Is the TPO Roofing on your building leaking or worn out? Don't overpay to have it repaired or replaced! One Call Roofing is the TPO roofing expert in Alabama.
Many TPO Membrane roofs can be repaired. If they can't, we replace them at a great price and a long warranty!
Call 24Hr's (205) 370-9450
Thermoplastic Polyolefin or, (TPO) for short, is a white, single-ply roofing system that is specifically designed for use on flat rooftops.
TPO Roofing Contractor in Birmingham, AL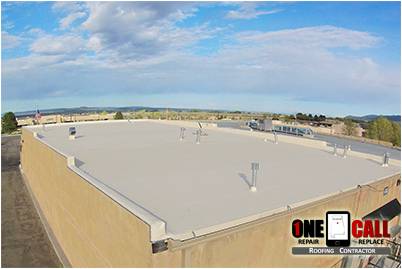 When it comes to the repair, replacement or installation of your membrane roof, we're the TPO roofing contractor with the skills, reputation and pricing to get the job done right the first time. We use GAF TPO roofing systems exclusively.
It doesn't matter if you have a flat roof or a low sloped roof, TPO roofing systems are best way to waterproof your building. Our dedicated commercial roofing crew will expertly repair or replace your old leaking roof quickly and properly.
We've been repairing and replacing these flexible white roofs for a very long time. That's important because if it isn't installed properly, it cause leaks in the future. So, don't take chances on less qualified TPO roofers.
TPO Roof Repair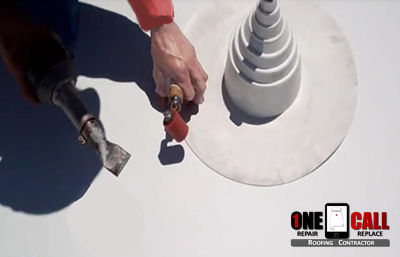 Sometimes, fallen objects from storms and maintenance technicians can cause punctures in the membrane. When this happens, the hole or tear in the TPO must be repaired properly.
A heat welded patch is the only TPO roof repair that should be done. These roofs are essentially seamless in that all of the seams are heat welded to form monolithic or single sheet of roofing. So when you get a hole in it, silicone or other caulks just don't cut it. We can repair rips, tears, holes and burns in TPO quickly.
TPO Roof Replacement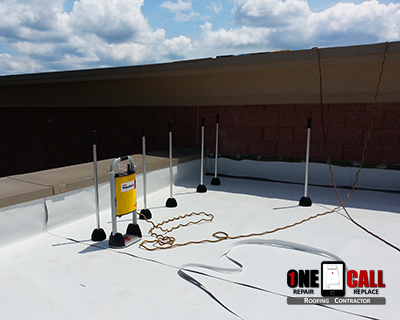 If your commercial roof is more than 15 years old or is leaking pretty frequently, it may be time to consider a TPO roof replacement. The best way to determine if you need a new one installed is to request a free roof inspection.
We'll check everything needed to properly replace your old TPO roofing, including the condition of the ISO-board insulation underneath it. If necessary, we'll remove and replace any rotten sections, then install the best TPO roof to fit your needs and budget.
One Call Roofing is an expert TPO Roofing Contractor in Birmingham AL that serves all the surrounding areas.