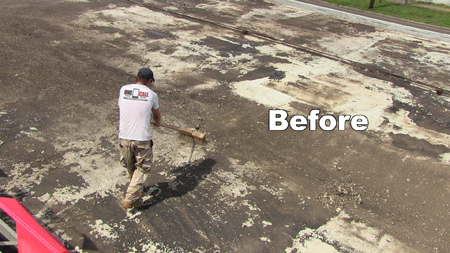 We offer the most affordable flat roof replacement Birmingham business owners need.
Is your old commercial roof failing? Call now for flat roof replacement at the best price! (205) 370-9450
Whether yours is old and beyond repair, leaking from storm damage, or you are looking for an energy-efficient upgrade, we provide the expert installation and service you need.
Flat Roof Replacement Cost in Birmingham AL
As a business owner, you have to pay attention to expenses. When it comes time to replace your commercial roof, it helps to know the most current pricing. The average cost for flat roof replacement in Birmingham ranges between $9,000 to $11,000 for smaller buildings and $14,000 to $21,000 for larger ones.
The factors which determine how much you will pay include:
Flat Roof Area or Size – Most commercial roofs will be estimated based off of the number of roofing squares ( a roof square is the area equal to 100 sqft).
Flat Roofing Materials – This may include underlayment, insulation board, nails & screws, roofing adhesives and roof ventilation flashing or boots.
Flat Roof Type – Common roof types in our area are TPO (Thermoplastic Olefin) PVC, Mod-Bit, EPDM and Built-Up (Tar and Gravel).
Flat Roof Removal – This covers the removal of the old roofing surface and underlayment as well as hauling it away.
Flat Roof Warranty – Depending on the roof type, these can last for 10, 20, 30 or even 50 years.
Installation Labor – The cost for professionally removing and installing your new flat roof.
Regardless of the type or style of roofing system you choose, we will always do our best to keep the prices fair and reasonable. Even so, there are financing options available for those who just might need it.
Flat Roofing Types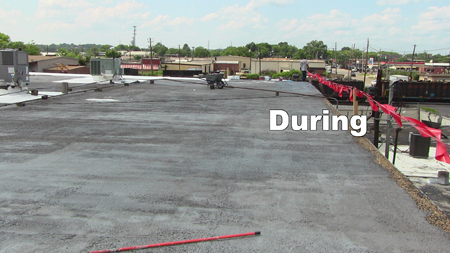 There are 5 main types of commercial flat roofing. Whatever kind you have installed, we're the reputable roofing contractor that offers several options to choose from, including:
TPO (Thermoplastic Olefin)
PVC (Polyvinyl Chloride)
Mod-Bit (Modified Bitumen)
Metal Roofing
Rolled Asphalt
Whichever type you choose for your roof replacement, you can count on it being installed properly so it will last a very long time.
Single-ply: Commonly known as TPO or PVC roofing, these are made from a single layer of plastic or rubber. These materials reflect heat well, which can help lower air conditioning costs. Single-ply has grown in popularity over the past 30 years, due to its flexibility, relative ease of installation, and competitive price.
Multiple-ply: These are made from felt rolls or mats that are separated between asphalt layers. A top layer of gravel or small pebbles is then applied to protect against damage and exposure.
Modified bitumen: For flat roof replacement in Birmingham, AL, choose this mix of asphalt and a polymer. It resembles single-ply but is installed in a similar manner to multiple-ply. It is covered in a layer of gravel or other protective coating, such as certain liquid coatings that reflect light well. Modified bitumen systems can be one-, two-, or three-ply.
Flat-seamed metal: These are made out of sheets that resemble tiles or shingles. The sheets, which are generally composed of copper or steel, are then soldered together to create a cohesive roof. The lightweight and light- and heat-reflective nature of the materials make them long-lasting, effective and aesthetically appealing.
Roll asphalt: This entails rolling asphalt-saturated felt over a base felt layer. After the asphalt is rolled, it is then either nailed down or covered in cold asphalt cement and then finally covered in gravel or some other protective layer. There are four basic kinds of materials: smooth surfaced, saturated felt, specialty-eaves flashings, and mineral-surfaced.
Commercial Roofs
When it comes to low sloped or flat commercial roofs, One Call is the affordable and reputable choice to get it replaced properly. We don't cut corners on preparation, installation or the cleanup afterwards. So, if you have a factory, school, church, warehouse, restaurant or any other type of commercial building, let us provide you with a free written estimate to replace the roof.
We provide flat roof replacement in Birmingham, AL and the surrounding area.