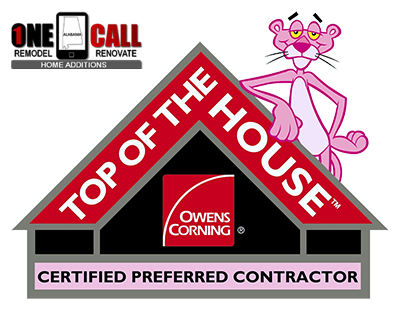 Is your old attic insulation making your utility bills go through the roof? You can do something about it and it won't break the bank!
We can install new attic insulation quickly and affordably. Call (205) 370-9450 For a free estimate.
Regardless if your old insulation is fiberglass batting, blown cellulose or any other type, the Owens Corning Pro Cat Insulation System will save you big money on heating and cooling costs.
Attic Insulation Contractors
Some things are best left to the professionals. Hiring attic insulation contractors to install a fresh new blanket of pink loose-fill material under your roof is one of them. When properly installed, you can expect the following benefits:
Lower Utility Bills – Keep heated or cooled air conditioning inside your home much easier.
A Quieter Home – Proper attic insulation is a great at absorbing sound!
Cleaner Air – Because it resists moisture, mold and pests, your air is healthier.
Longer Lasting Roof – Along with adequate ventilation, the life of your roof can be extended.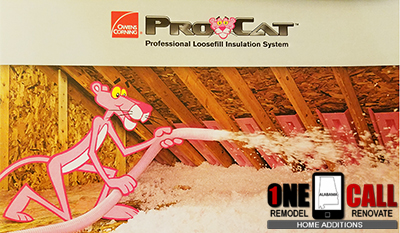 There is so much more to properly installing this energy efficient material than most people don't understand. This includes know how to properly insulate the attic without clogging soffits or exhaust vents.
As an Owens Corning Certified Preferred Insulation Contractor, we have been trained, tested and certified to properly install the best attic insulation you can buy. It comes with a limited lifetime warranty, is mold and moisture resistant and can lower electric bills by more than 15%.
Attic Insulation Removal
Chances are that if you are looking for someone to remove existing attic insulation, it is either: old, wet, infested or just plain inadequate. If it's coming out then new must go in. After the removal, we can install energy efficient blown-in attic insulation quickly and at a great price.
R-Value For Attic Insulation
The recommended R-Value (R-Value is a rating measurement for insulation's ability to resist heat passing though it) for the homes in our area of Alabama is between R-40 and R-60. According to the Energy Star website, your home is located in Zone 3 and should be insulation according to those values.
We remove, replace and install attic insulation for homes located in Birmingham, Hoover, Vestavia Hills, Homewood, Pelham , Trussville and surrounding cities.