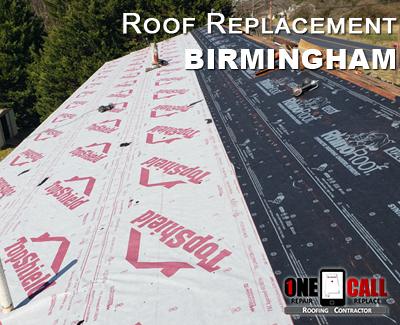 Your written roof replacement estimate is just one call away.
Roof replacement from the top rated local roofing contractor in Birmingham and surrounding cities
Call now at 205-370-9450
Whether you have storm damage that can't be fixed, a roof that has come to the end of its protective life for your home or commercial property, you have found the expert roofing replacement contractor install your new roof.
Roof Replacement Contractor
We have been designated a platinum preferred roof replacement contractor of GAF, the largest roofing manufacturer in the world. They designate factory-authorized installers when the contractor's workmanship and expert roof replacement contributes to the peak performance they build into their roofing materials. This entitles you to GAF's best warranties against roofing defects. In other words, your new roof is backed by the best in the business.
When it comes to replacing roofs, these are the top five most requested roofing materials we get called on to remove and install:
Shingles – Asphalt, Cedar and Metal for home or business.
Metal Roofing for commercial and residential buildings.
TPO or PVC Roofing Membranes for flat or low sloped roofs.
Commercial roof coatings resurface your existing roof without needing an complete replacement.
Don't forget the garage! Make sure it matches your home, and is also protecting your autos, boat and storage.
Shingle Roof Replacement
If your current shingle roof is 13 years old or older, get it inspected. For instance, the average trouble-free life of previous-generation asphalt shingle is 15 years. It then enters a constant cycle of leak and repair, then leak again. If your home or business asphalt shingle roof is "in its teens", schedule an inspection before age leads to big problems. Usually a shingle roof replacement is needed to bring added peace of mind.
Last-generation metal needs an inspection after ten years. An expert roofing contractor can tell you if your roof is getting near the end of its lifetime. While newer metal has solved potential leaking, older metal may have rust and corrosion around nails and screws, and will leak.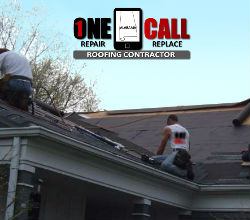 Energy savings from installing energy-efficient roofing can be as high as 50 percent. Many new materials are called "reflective", which means they bounce back the heat of the sun, so it does not pass through to your interior. By cutting your electricity bill each month, your new roof begins to pay for itself.
The federal government may offer significant tax incentives for roof replacement which results in energy savings. Ask about ENERGY STAR® qualified roof materials during your free consultation.
You get our exclusive $500 Home Maintenance Credit
When you purchase roof replacement from One Call Roofing, you automatically get a $500 credit. Here's how it works. You get the money to put toward these repairs that may accompany installation of your new roof:
Sheetrock work or painting inside or out
Siding work or new flashing (metal roof trim)
Trim work inside or out
Replacement of rotten windows or moldings
If the repairs don't add up to more than $500, you pay nothing!
Roof Replacement Insurance Claim
You are entitled to choose a roofing contractor to represent you with your insurance company. We will meet with your claims adjuster and navigate the process for you. In most cases, all you pay is your deductible. Whether it's for replacing the roof, gutters, or other exterior damage, we work to get your claim paid.
We have provided top quality roof replacement in Birmingham AL since 2003
Call the professionals at 205-370-9450
We offer roof replacement in Birmingham Alabama, Homewood, Alabaster, Trussville, Hoover, Mountain Brook and Vestavia.