We service all areas of Jefferson, Shelby and St. Clair Counties in Alabama.
One Call Roofing Repair & Replacement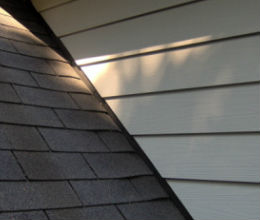 All roofs must have wall flashing to keep water from leaking between the roof and walls or chimneys. Simply tarring or caulking the edges where the two surfaces meet is a recipe for guaranteed roof leaks. Brick walls and chimneys require both step and counter flashing to be installed. Roofers who tell you otherwise are less than reputable.
In order to properly flash brick walls, an "L" shaped step flashing that's made of metal is used in conjunction with counter flashing. The lip of the metal is inserted into the mortar between the brick. A minor groove is cut into the mortar and a clear sealant is applied to ensure it stays water tight.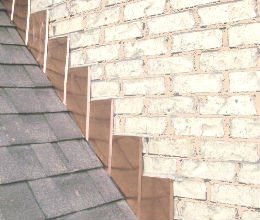 For walls that have siding, metal flashing is installed behind it and under the roofing shingles next to it. If installed correctly, you should hardly notice it.
One Call Roofing only uses quality wall flashing repair materials. It's our goal to provide you with roof repair that will last for a very long time. Whether you need step flashing or counter flashing repaired or installed, we will do the job right and keep costs down.
We provide wall flashing repair for roofs in Birmingham, Hoover, Vestavia and Mountain Brook, AL.