We service all areas of Jefferson, Shelby and St. Clair Counties in Alabama.
One Call Roofing Repair & Replacement
Skylights are a great way to allow natural light into your home or business. As one of the most common roof leaks, skylights need to be repaired or replaced over time. The plastic, glass or "plexi-glass" skylight on your roof can crack and leak pretty easily.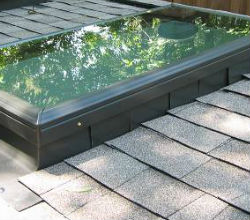 Three specific types of skylights are fixed, tubular and ventilating (also known as "roof windows"). All of these need to be properly flashed to prevent water from leaking in. Boxed skylights should have head, stepped and bottom flashing installed to keep it watertight.
A self flashing skylight is most commonly recommended by reputable roofing companies. This type comes as one package directly from the manufacturer. We will always use a flashing kit for other types of skylight installations.
One Call Roofing only uses quality skylight manufactures and brands like Velux, Farko and Solatube. More than just an additional source of light, these fixed and motorized skylights shield you from the elements outside. Tints, shades and UV protection films can be added as well.
We provide skylight repair and installation in Birmingham, Hoover, Vestavia and Mountain Brook, AL.