We service all areas of Jefferson, Shelby and St. Clair Counties in Alabama.
One Call Roofing Repair & Replacement
Pipe flashing, which is commonly known as pipe collars or boots, is made of a plastic or metal base. On the top of the unit is a rubber gasket or boot that hugs the pipe close enough to be water tight.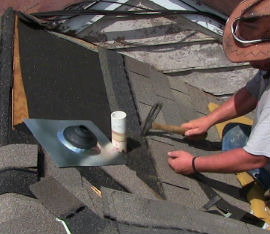 On average, they will last 10 to 12 years when installed properly. Over time, the metal can corrode and the rubber piece that keeps water out will crack. When this happens, rainwater will then soak into your attic insulation. Signs of pipe flashing leaks will show in your attic and eventually your ceiling.
It's important to remove and replace these roof pipe boots properly. Many roofing companies in town will just caulk or tar the leaking areas to save time and money. While that may work for a very short time, it's a temporary fix that's sure to come back quickly.
One Call Roofing knows that replacing the roof pipe flashing is the only way to make the repair last for a long time. It starts by installing the proper pipe boot that matches the size of the pipe coming through your roof. We then inspect and install new shingles that surround it. In some cases, a clear sealant may be applied to the rubber area as an added layer of leak protection.
We specialize in Pipe Flashing Repair in Birmingham, Hoover, Vestavia, Mountain Brook and Trussville, AL.