We service all areas of Jefferson, Shelby and St. Clair Counties in Alabama.
One Call Roofing Repair & Replacement

Roof ventilation comes in different forms. The most common are ridge vents, wind assisted turbines and electric powered fans. Choosing the right one for your roof will ensure that sufficient ventilation occurs.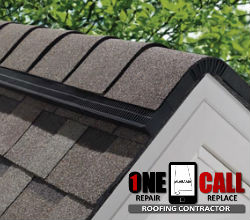 Having cooler air come in through the soffit vents below the roof overhang and then leave through the ventilation system mounted on the roof will create a proper air flow. This is necessary to help regulate the temperature of your roof so it will last longer.
By ventilating the attic space under your roof, you can lower heating and cooling costs considerably. Heat rises and if it can't escape through the vents in your roof you'll pay more trying to keep your house cool.
When installed correctly, roof ventilation will not leak and almost never needs repair. Damage from high winds, hail and improper installation can cause leaks. If it does, the roof ventilation system you have should be repaired or replaced by a roof repair contractor.
We provide roof ventilation repair and installation in Birmingham, Hoover, Vestavia and Mountain Brook, AL.